Phantom Limb Pain Consumer Group
Research and evaluation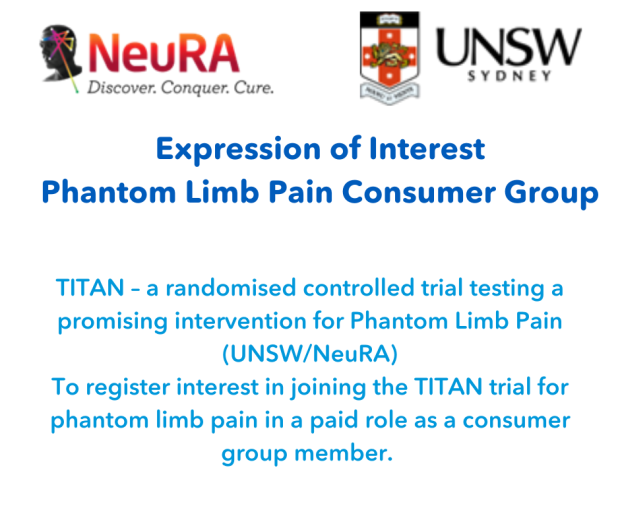 Phantom limb pain is a common and debilitating symptom experienced after limb amputation. The current standard treatment is inadequate, often involving high-dose pain medication. Research at the University of New South Wales and Neuroscience Research Australia is investigating the effectiveness of the most promising, non-drug treatment for phantom limb pain in a high quality randomised controlled trial.

Consumer Panel Information
The TITAN Research team is seeking people with, or who have previously experienced phantom limb pain to join the TITAN Consumer Panel.
The TITAN researchers will seek advice and expertise from our consumer panel on different aspects of the trial. We believe that by involving consumer advocates in our project, we will ensure peoples' lived experiences and perspectives shape decisions about how we conduct our research.
The responsibilities of the consumer panel include:
Participate in consumer panel meetings and provide consumer contribution to discussions about relevant aspects of the trial
Reviewing TITAN study documents e.g., information sheets, consent forms & plain language summaries
Advising on outcomes that are important to people with Phantom Limb Pain
Recommending methods of engaging with the Phantom Limb Pain community
Providing insight into the potential participant benefit of the TITAN trial and its implementation if the intervention is proven effective
Consumer Panel Meetings
Meetings will be held by teleconference (Zoom) at least twice per year. Additional meetings will be held on an as-needed basis.
Attendance at Consumer Panel Meetings
As far as possible, consumer panel members will be expected to attend all consumer panel meetings for the duration of the trial, although it is acknowledged that this will not always be possible. The expected involvement period will begin in mid 2021 and continue for up to four years.
Expenses and payment
An honorarium payment is offered for contributions to consumer panel activities. The payment rate is $40/hour (if reviewing documents, maximum of 1hr/document reviewed).
Desirable skills, attributes and experience
Currently experiencing, or previously recovered from phantom limb pain
Community members who have cared for, treated, or are related to someone living with phantom limb pain
Philanthropic interest to help improve health outcomes and quality of life for people with phantom limb pain
Experience using a computer or tablet including accessing the internet (e.g., Zoom), e-mail and word documents
Previous involvement in research as a consumer or otherwise (not required)
Click here to register or for more information contact TITAN trial researcher Sam Williams at s.williams@neura.edu.au

Applications close Thursday 30th of June

---