Victorian Amputee Empowerment Project
The Victorian Amputee Empowerment project works to reconnect people with limb loss to their local community. This project is an Information, Linkages and Capacity Building program.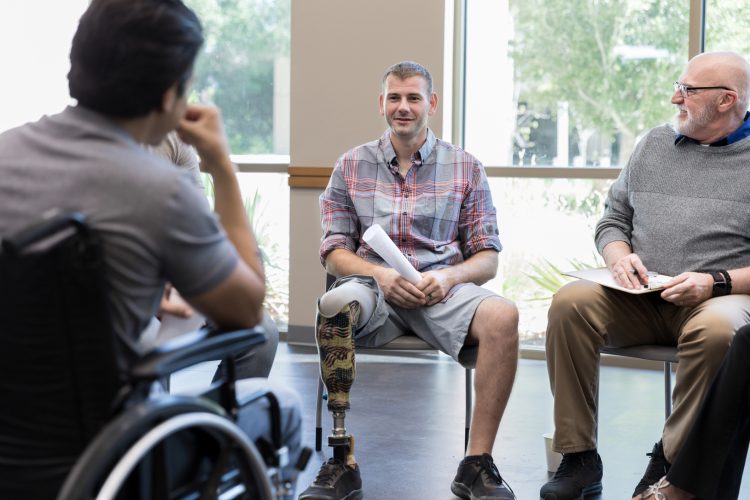 Project objectives
Using lessons learned from the South Australian Limb Loss Capacity Building program, this Victorian initiative will:
develop metropolitan and regional locally based Peer Support Empowerment Groups;
train more amputees as Peer Support Volunteers;
upskill and train amputees to become 'group leaders;'
develop and deliver workshops and webinars for Empowerment Groups;
empower amputees to build confidence, self-advocate and reconnect with their community;
create new resources specifically for the Victorian amputee community; and,
provide a safe space for amputees to share and learn from others with lived experience.
We will engage people with limb loss in the development of activities and materials using a co-design approach; making sure that our community has the opportunity to share knowledge and insight throughout project delivery.
Project roll-out
Very soon we will be hosting information sessions in metropolitan and regional areas of Victoria. These locations include:
North, East, South and West Melbourne
Gippsland region
Ballarat
Bendigo
Shepparton
Echuca
Geelong
Wodonga/Albury and Wangaratta
To see the full list of locations and dates, please click here.

If you live in or near to one of the locations outlined above and would like to register to attend an information session, please email info@limbs4life.org.au.
Download the flyer by clicking here.
Information Sheets
As part of the Amputee Empowerment Project, Limbs 4 Life have created some information sheets to help to support the community. You can download the information sheets below or contact us and we will send you hard copies via mail.
Research
As part of the Amputee Empowerment Project we will be conducting research with ethics approval from Monash University.
We are seeking your feedback. If you are a person with limb loss living in Victoria, we want to hear from you. Your feedback is important to us. An Explanatory Statement about the research can be found here.
For more information about this project please contact us today.

---