Developing Good Habits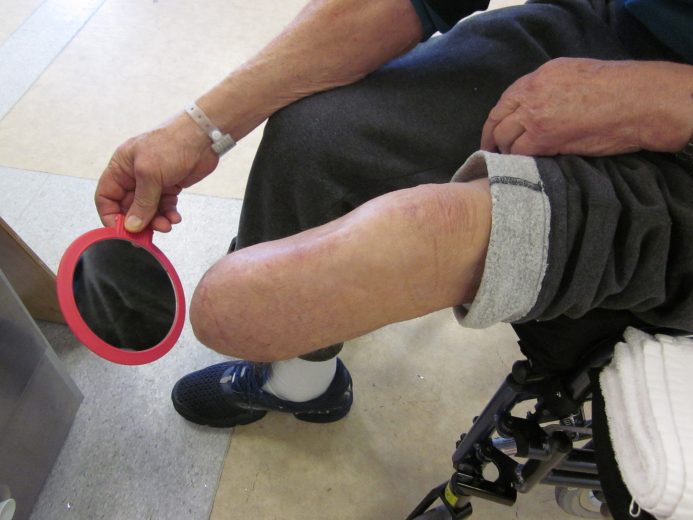 Losing a limb/s will impact the balance of your body. Whether you are an upper or lower limb amputee, the best thing that you can do is to make every effort to have good posture and, if you are using a prosthesis, a good gait (walking) pattern from early on. Your physiotherapist will help you to develop these skills initially. But it's up to you to keep up the good habits you learn.

If you are a lower limb non-prosthetic user it is important that the seating and back support on your wheelchair provides and promotes a good sitting posture. The seating/cushion needs to be comfortable and give you suitable pressure relief to prevent skin problems. You should also be aware of the impact that the use of assistive devices (e.g. walking frames, crutches and walking sticks) can have on the rest of your body; especially the arms, hands, shoulders and upper back area.

For people with a single-side amputation it is normal to put more stress through the non-amputated side of your body, especially in the early stages following amputation.
People often put more stress on their non-amputated side to make up for their missing limb, and tend to do it when they start prosthetic training. This can be due to a lack of confidence and inexperience using a prosthesis. But, be aware that additional stress on your body can lead to long term health problems and can sometimes cause unnecessary pain.
Where possible, try to make sure that you practice the good habits that you have been taught by your healthcare team.
Lower limb amputees need to be mindful of good gait patterns, and develop strength in the legs and trunk (stomach and back) muscles to assist with walking. This will support your ability to do everyday activities and help to prevent injuries.
Upper limb amputees (whether using a prosthesis or not) need to take care of their neck, upper back and shoulder areas to prevent long-term pain. Flexibility of the neck and upper back, along with neck and shoulder-blade control exercises, will be very important in the long term.

---