Accredited Exercise Physiologists: How can we help?
Health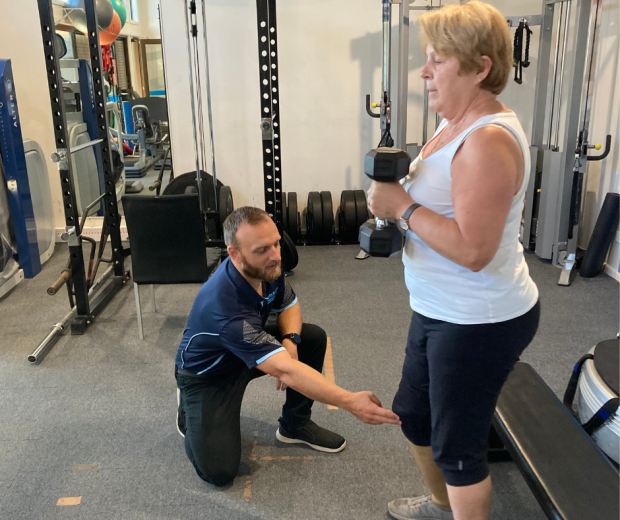 Who are AEPs?
Accredited Exercise Physiologists (AEPs) are allied health professionals that undertake four years of university study and over 500 hours of practical experience to become accredited. We are experts in the design, delivery, and evaluation of safe exercise interventions that are tailored towards your individual goals. These are constructed with input from you and your wider support network including other health professionals. AEPs specialise in prescribing exercise both as a preventative measure and a treatment for a large range of injuries, conditions and disabilities. These can range from sports injuries, cardiovascular, metabolic, neurological, cancers and mental health.
Taking charge of your health
An amputation is a significant life changing moment. Post amputation you are faced with a huge amount of new information and will face unique challenges. It is important to have a personal and professional support network around you that can assist you to absorb and implement this information when you are ready to move forward.
For amputees, it is common for multiple health factors to be involved both in the short term and many years down the track. Studies have shown that lower limb amputees use 40-100% more energy to walk than a non-amputee. This places higher demands on the cardiovascular system and other parts of the body such as the sound limb and lower back, not to mention of course the residual limb. An AEP can help improve your strength and range of motion as well as work with you on improving your gait to make it as efficient as possible.
Improving your cardiovascular fitness will improve your ability to walk further and faster. Increased cardiovascular fitness has benefits such as helping manage existing chronic conditions and can reduce the risk of developing health conditions such as diabetes, heart disease and some cancers. Balance difficulties and fear of falls are commonly reported issues amputees face, however with targeted training to build strength and confidence it can be improved.
Progressing along the path of regaining your mobility or getting back to an activity you love can have huge impacts on your self-esteem and sense of control in your life. Alongside this, undertaking regular physical activity is well researched to have positive effects on stress, anxiety and other mental health conditions.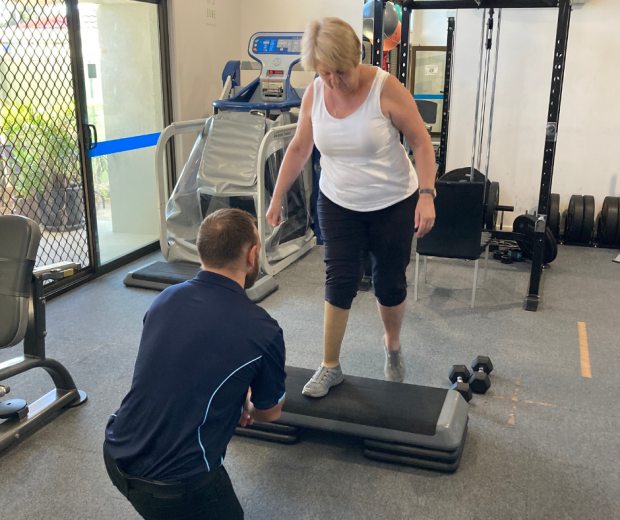 Goal setting
Your goals are unique to you, some people want to navigate around their home safely and others may want to get back to or start recreational and sporting activities. These goals can change over time, what you hoped to achieve coming out of hospital may be very different to your goals now. Equally, some people may have been travelling along comfortably for many years but have picked up an injury or a new health condition that is now holding them back. Wherever you are in your health journey AEPs can provide guidance and support.
Your AEP will work with you to identify your goals and the level of function you aspire to. We will help create targeted goals with short, medium and long term milestones. A management plan will be created detailing how we are going to support you to achieve your goals and evaluate your progress along the way.
You will be provided an individualised program that will improve your mobility, confidence and ability to navigate daily tasks and participate in the activities you care about. Importantly you will be educated and empowered to integrate exercise into your life and create lifelong habits so you can self-manage and take ownership over your goals.
Australian physical activity guidelines for adults recommend a minimum of 150 minutes of moderate intensity activity or 75 minutes of vigorous activity a week. This can be a combination of both and can include sports, walking, gardening or anything that makes you breathe faster. In conjunction with completing two strength-based sessions, these are the activity levels recommended to improve your physical and mental health and wellbeing. Most Australians are not achieving these minimum recommendations and the statistics for people with disabilities are even lower. However, it is important to know that doing even a little bit is better than nothing and sets you on the right path to create a habit and build a positive relationship with physical activity. AEPs are here to support and guide you through this process.
How to access AEPs
AEPs often see clients referred through the NDIS, GP referrals in Medicare chronic disease or diabetes programs, Department of Veterans' Affairs, or privately with health fund rebates. Use the find an AEP function on the Exercise and Sports Science Australia website to find your local AEP.
---