Richard McCarthy
Richard McCarthy is a Murri man and a member of the Gunggari mob. Gunggari People are the proud Traditional Owners for an area that spans approximately 37,100 square kilometres in Queensland's Maranoa region, and a nation with ancient cultures and customs.
Richard McCarthy is a Murri man and a member of the Gunggari mob. Gunggari People are the proud Traditional Owners for an area that spans approximately 37,100 square kilometres in Queensland's Maranoa region, and a nation with ancient cultures and customs. Gunggari country is nestled between the towns of Charleville, Mitchell, St George and Bollon. Gunggari People derive their traditional connection to country through their ancestry, a commonly shared deep spirituality and affinity with their homeland and recognition of social belonging.
It was an honour for Limbs 4 Life to learn about Richard's amputation experience, background, volunteering endeavours, and the fascinating 'bucket list' activities he has pursued in recent years.
Until his accident Richard lived just outside of Stanthorpe, in an open plan, off grid cottage on a great piece of bush land. It was his "sanctuary" and gave him a place that he felt connected to culturally and personally. "That part of Southern Queensland is an area filled by nature, native animals and, believe it or not, some snow during the winter," Richard explained. It was an area where Richard felt comfortable living and riding a motorcycle to get to work, connect with the community and spend time with friends.
Richard is in his early 50's and had been a safe and experienced motorcycle enthusiast since a young age. "Riding a bike has always given me a sense of freedom, feeling like all my senses are involved and offers absolute exhilaration," Richard shared. But he was always aware that with enthusiasm comes a great responsibility to be safe on the road. "I have always known that motorcycle accidents can result in riders experiencing minor through to major injuries, making staying on top of the rules, being consciously aware of your surrounds and wearing safety gear critical," Richard explained. Unfortunately in March 2018 Richard did experience his first serious accident with a fast moving car that led to damage of both feet.
As a result of the accident it was identified that both of Richard's right ankle and foot were broken. At the time he had an ulcer on his left foot which was being cared for with the help of a podiatrist. His leg was put into a cast and sent home with a pair of crutches. Approximately two weeks later a friend, who had been visiting regularly to keep an eye on Richard, noticed he was unwell. "I thought I had the flu, but when my friend saw me she thought I was really unwell and needed to see a doctor," Richard recounted. So, Richard was taken to his local hospital where it was determined that sepsis infection had set in. It led to him being immediately transferred to the nearest major hospital in Toowoomba. "At hospital the initial treatment was intravenous medication to stop the infection," Richard explained. But within days doctors operated and removed part of his left foot, and it was during this operation that the surgeons realised that they would need to amputate his lower left leg.
"It came as a bit of a shock to be told that I would need to have the amputation done, then after the operation I was told they had to take more off than they thought," Richard reflected.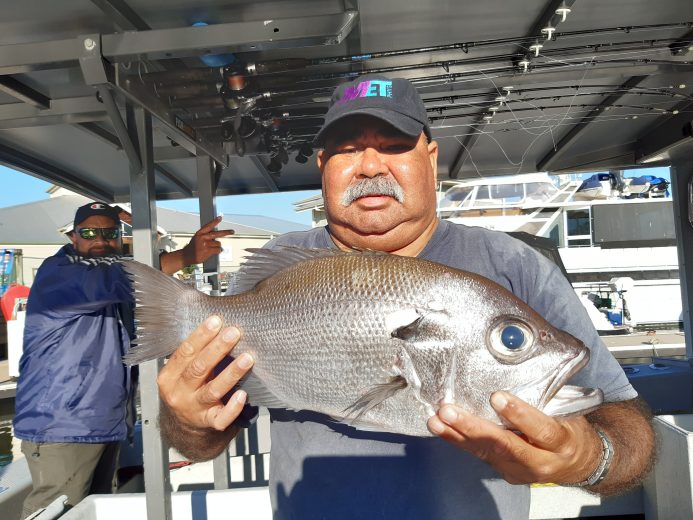 After his surgery, Richard spent six months in and out of hospital for rehabilitation, the fitting of his first prosthesis, the fitting of an orthotic device for his damaged right foot and some ongoing medical care. "The amputation changed my life and it took quite some time to emotionally come to terms with it all, but I had incredible support from my occupational therapist and social worker who helped me access support and apply for the NDIS," Richard recounted. Unfortunately, due to limited access to his home and property Richard was not able to safely return home. So, initially Richard moved into a more accessible home in his local town and then, more recently, he moved into Toowoomba as it's closer to services and an even more accessible house. "I do enjoy being closer to the city but I really miss living on the land, and one day hope to build a home one that sits on 5 acres and is totally accessible to accommodate my disability needs," Richard said.
Richard is open about the fact he still feels emotionally impacted by what happened and is accessing psychological support so that he stays on top of this. "I think it's not so much that I now live without my left leg that affects me, but that it led to some radical independent living decisions and not being able to return to riding a motorcycle for quite a while," Richard revealed. Another decision for accessing psychological support was driven by Richard's professional experience as a qualified counsellor and recognising that you should always put your mental health first.
Prior to his amputation, Richard worked extensively as a counsellor in the areas of drug and alcohol recovery, men's health, male behaviour change and group leader training. "Over 10 years I worked for a couple of organisations and in multiple sites as a counsellor, so I knew first hand just how important it is to access support when you need it. And I also knew how critical it is to draw upon professionals to manage depression and adjustment. So, I started and still see a psychologist to stay on top of my own mental health," Richard shared.
Richard's background also led him to join the 'Happy Chat' peer support group in the town of Stanthorpe not long after his amputation. "It's a local group for people with mental health issues and I really benefited from being part of it. I was actually still in hospital when a friend from Happy Chat came in and told me about Limbs 4 Life and the Facebook page," Richard reflected. After looking at the page Richard noticed that the Amp-Ed Up Conference in Canberra was coming up and decided to attend. Within weeks Richard booked to attend the conference, then with help from friends and Limbs 4 Life he was able to arrange travel and accommodation. "Being able to attend the two-day conference was a real eye opener for me and played an integral part in my recovery," Richard recalled. While Richard had much to say about the conference, if he could only choose four benefits it was "feeling like you could easily have a yarn with other amputees who 'just get it', asking other amputees about their experiences with certain devices, gaining insights by listening to speakers, and talking to professionals in the exhibition hall which was full of products you could touch and feel," Richard explained. While the next conference has been postponed a couple of times due to COVID restrictions, Richard believes it was done for all the right reasons and feels the next one will be even more powerful and exciting than ever before.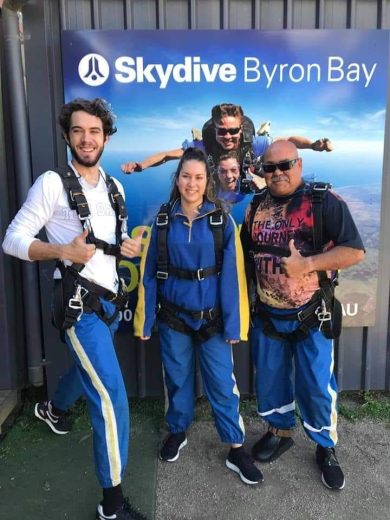 Richard has always been a lover of the land and sea, as well as being a very adventurous soul, and becoming an amputee has not stopped him from remaining active and pursuing life dreams. "I guess my accident and amputation has really driven me to start working through the 'bucket list' that I never seemed to get around to previously," Richard shared.
Richard has returned to riding a Suzuki Burgman AN 650 motorcycle which really suits his needs as it is an automatic. "My bike, that I call 'Bertha', is beautiful to ride and is not much different in handling and power to my previous bike. I lovingly refer to her as my 'scooter on steroids'," Richard laughed. He is grateful that he is able to get "back on the bike" to get around town, as well as further afield, and still experience the pleasure of riding.
Richard has also been working through his post-amputation 'bucket list' which have led him to take part in adrenaline-driven activities. Richard still feels shivers when he thinks about the time he went to Byron Bay with his son Budda and daughter Naomi. "I skydived for the first time of my life, with my adult kids jumping from the plane at the same time. It was not only a joy to do it with my amazing children but gave me the biggest and longest adrenaline buzz I've ever felt, not to mention a stunning aerial view of sea and country," Richard described. Richard has also taken the opportunity to see more of nature, by going up into the sky in a hot air balloon and gyrocopter.
More recently, Richard visited Mooloolaba in Queensland to swim with humpback whales. "I consider whales to be gentle, elegant and strong animals and felt blessed to be able to swim above them and watch them play in their own environment," Richard explained. When swimming with the whales you are put into a wetsuit and fitted with a snorkel, after which you can swim and watch the whales from above. "It's a very respectful approach, makes you feel privileged to be in their territory, and is an absolutely blissful encounter," Richard remarked.
Since his amputation Richard has also taken on voluntary positions with a number of organisations, enabling him to share his lived experience as an amputee, counselling background and knowledge as a Murri man.
Richard currently sits on a Carers Queensland Reconciliation Action Plan Advisory Committee. The Committee is made up of local Aboriginal and Torres Strait Islander people to help ensure that communities are part of the plan and able to advise on local issues that need local solutions. "Being a Murri man, as well as a person living with disability, is a way that I can support my community and help to ensure that all people have access to services that are respectful of their social, economic and cultural needs," Richard explained.
Richard is also an important member of Limbs 4 Life's National Amputee Advisory Council (NAAC), and welcomes the opportunity to share his lived experience and contribute to ensuring that the voice of Aboriginal and Torres Strait Islander people is being heard. "I was proud to be invited to join the NAAC and connect with a mix of amputees located all across Australia. It's such an informative and strategic group who share a common goal – ensuring that Limbs 4 Life is meeting the needs of the diverse amputee community across Australia".
---