Making a splash with Monique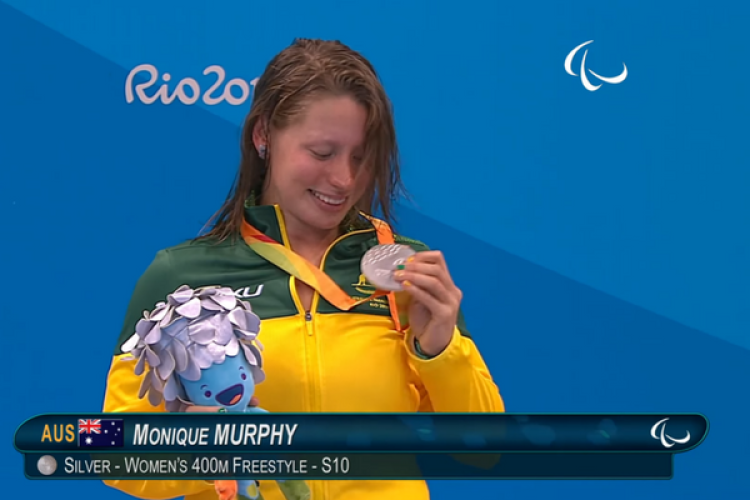 Paralympian Monique Murphy started swimming at a young age with the Tuggeranong Vikings Swim Club, swimming as an abled-bodied swimmer. In March 2014, she was involved in a freak accident that almost claimed her life. But her remarkable determination and resilience in returning to the sport she loves saw her becoming a medal winner at the Rio 2016 Paralympics Games.
Nearly three years ago, Monique woke up in hospital, after a week-long coma, without her right foot and with life-threatening injuries. Doctors told her she had fallen from a fifth-floor balcony and landed on a glass roof.
Monique believed her drink was spiked at a university party which is why she has no recollection of what happened that night.
"I don't remember anything. When I woke up in hospital I learned my right foot had been amputated. I suffered a broken jaw, a dangerous laceration to my neck from the glass, broken collar bone and tibia plateau fracture. I had a left knee reconstruction, trice tendon repair and three broken ribs," Monique said when recalling her injuries.
She said that while the news about her foot took a while to sink in, despite the shock, she felt incredibly lucky to be alive.
"When I woke up, the doctors told me about my foot. But I didn't remember, and it wasn't until  the next morning when they came and saw me and walked away that I heard the words 'foot' and 'amputation'. Until then I had thought my foot had just been bandaged into a point- because I could still feel it.
"I asked the nurse if my foot had been amputated and her face said it all. My mum then entered the Intensive Care Unit (ICU) and she grabbed my hand and said my foot saved my spine and my jaw saved my brain. I had no spinal or brain damage and although I was devastated, I knew limbs were replaceable and I was lucky," she said.
While in hospital, Monique opted to have an elective surgery to further amputate her right leg below the knee, to improve her chances of regaining  mobility, functionality and independence.
"After talking with one of Limbs 4 Life Volunteers, Mike Rolls, and understanding the prosthetic advancements for below knee prostheses, I decided to have the final surgery. Mike had once faced a similar decision regarding an elective  amputation, which helped me and my family with my situation. He also talked to me about prosthetic flippers explaining that he wore them for scuba diving. This changed my mind in a positive way about getting a  mermaid fin. . The idea of swimming was so exciting ,  in that moment, I knew swimming could be part of my future if I chose to pursue it. ." Monique said.
Receiving Peer Support from other amputees is something Monique is grateful for. "When I woke from the accident I had no prior knowledge of living life as an amputee, so meeting someone else in a similar situation  was incredibly helpful and reassuring for me and my family," Monique affirmed.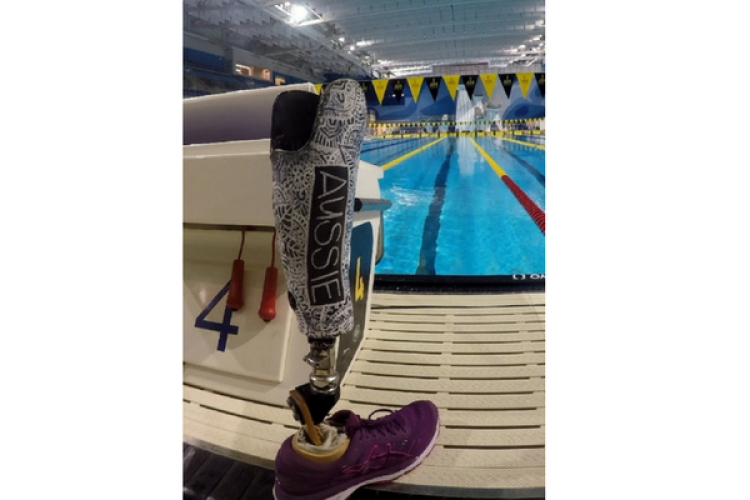 As part of her physical recovery, Monique spent six weeks in hospital and had a total of eight operations. "One week, I had three operations in three days, I was a wreck after those. The pain was intense and I wouldn't't let any nurse or healthcare staff member touch me for a week. When a physio came to see me, and told me I could start standing  it coincided with my brother re-booking his ticket to London for work (a flight he had postponed when I had fallen). This sparked my goal, to be able to stand and hug my brother goodbye. Achieving this goal was one of my proudest moments in hospital and I started to set more goals after that" Monique said.
"Moving to the rehabilitation ward at Royal Park Hospital saw me get my first prosthesis one month after the final amputation.  I not only took my first steps, but was allowed in the hydrotherapy pool that day as well.
"Getting into the water was so liberating. For the first time, I could move more than I had in weeks and from that day I was the first person in the water every morning,  and the last one out each afternoon," she said.
Monique also credited the support she received from her family as a vital ingredient for her recovery.
"My mother Michelle, brother Chris, father Carl and step mother Kathy were there for me every day and with  me for every set back, and step forward," she said.
According to Monique, hydrotherapy sparked her comeback to competitive swimming. "I had given up swimming when I finished school and started my gap year in 2012. I had no initial interest in returning to the sport despite the suggestions by many people.  It wasn't until I started hydrotherapy that I remembered how much I loved being in the water. I gradually built up swimming and for a long time it was the one activity that would always get me out of bed or out of the house."
"I joined a club in Melbourne and in the months before I could return to university I started training. I enjoyed the challenge of pushing my limits as an amputee and seeing just how much I could accomplish."
 "Swimming helped reduce my phantom pain dramatically and I slept better at night. I got fit and lost weight and was introduced into the world of para-swimming. One year later, I was announced as a member of the Australian Dolphins Swim Team – a dream I've had since I was a kid. It's a different way of achieving my dream but it's a second chance, that  I'm grateful for." Monique said.
According to Monique, she started training harder, longer and smarter than ever before. "Para sport is in no way easier. We still have all the qualities of any successful athlete, determination, perseverance, and discipline. I have to be more inventive when it comes to gym training as the prosthesis can be challenging, but my coaches are always up for the challenge, In the water, things are just the same. I'm only just a tad slower pushing off the wall with one leg. I do have a mermaid fin that I wear occasional to help my kick. I love this fin, it's covered in blue and green fish likescales. I do have to be more aware of the limitations of my body and I have regular physiotherapy and massage sessions to help with my training load," she said.
When asked about how much the accident has changed her, Monique admitted that her life is very different to what it would have been like prior to the  accident, but that she wouldn't change it.
"I am still the same person I was before, same  qualities that I had; I have just grown stronger. Having a prosthesis has helped me become more comfortable in my own body."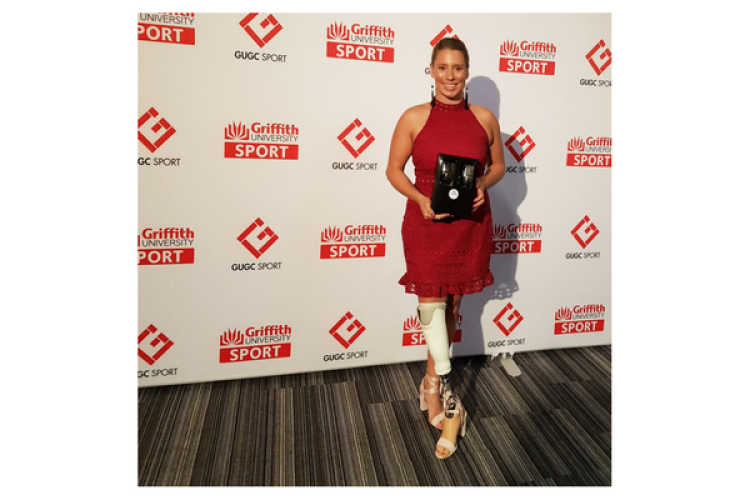 "Being a part of the Australian Paralympic Team has allowed me to have so many experiences I would never have had. I have met so many inspiring people, and formed lasting friendships. It fills  me with so much pride. I wouldn't haven't any other way," she said.
Outside the pool, Monique is in high demand. She helps run a Junior Excellence Clinic which aims to recognise, reward and encourage younger swimmers to embrace their passion for the fun, fitness and competition associated with swimming. Monique is also involved with 'Share the Dignity', a charity that offers sport scholarships to children who have been exposed to domestic violence, and each Sunday she volunteers with St Vincent De Paul and their youth program.
Monique's advice for amputees who might still struggle to get on with things in life is that, "It's okayto have bad days. Living life as an amputee is not easy, and giving yourself time to deal with that is important. Asking for help is okay too. Having a support network is fundamental.  I am constantly surprised at the capabilities of people with disabilities and I am yet to find something that my leg (prosthesis) holds me back from doing. I recently painted my leg with blackboard paint and I enjoy decorating it with chalk, and with whatever I want. It's been three years and I still find things that make me love my prosthetic life," she said.
Monique won a silver medal at the Rio Paralympic Games in the 400 meters freestyle race under the S10 category and is now preparing for the Para Pan Pacific Swimming Championships which will be held in Cairns next year. She is currently also completing a Bachelor Degree in Social Work.
Here at Limbs 4 Life, we would like to wish Monique and the Australian Paralympic Team the best of luck for the upcoming 2018 Commonwealth Games.
---