Garry's still kicking goals
Garry's journey to amputation started fifty years ago when he hurt his left knee playing Aussie rules.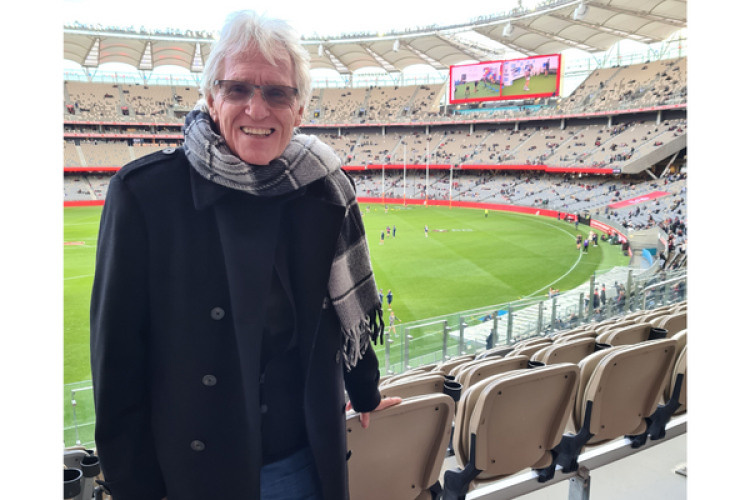 My journey to amputation started fifty years ago when I hurt my left knee playing Aussie rules. A cartilage removal was undertaken and any sane person would have perhaps called time and stopped playing. Young and stupid, I continued and this eventually necessitated a total knee replacement when I was in my early forties. This was successful for seven years until I developed osteomyelitis and the bones in my lower leg and around my knee crumbled. Massive bone grafts resulted in my leg being set incorrectly and in order to align my knee another replacement was required. Infections over the years have resulted in me having five knee replacements. Each required removing the internal knee prosthesis, going for three months without a knee joint and using crutches whist the infection was treated with antibiotics, and then replacing the prosthesis again.
The final time (in 2014) I spent four and a half months in hospital trying to get the infection under control. The day I was due to go home they took one last blood test and I was told that the infection was back, and worse than before. I was shattered, but determined to make the best of my dilemma. I spent a few dark nights around this time.
I sat with the doctors and the surgeon, and it was explained to me that we had fought the good fight and the chance of me winning was less that one percent. The infection would at some stage return and eventually amputation would be the only option. Even if there had been no infection, my leg was nothing but trouble with very limited bend and I was in constant pain. I talked it over with my wife and she supported my decision to amputate then, instead of in the years ahead. I think back now and realise this must have been a big shock for her because the changes to both our lives has been significant.
Within two weeks my left leg was removed above the knee. Then the long rehabilitation process began. I can recall I had been fitted with my first prosthetic leg and was doing a timed walk in a hospital gym when I heard a voice telling me to "take it easy old fella. You'll kill yourself". I then realised this fellow amputee was talking to me. That was like a red rag to a bull. My name was on the top of the achievement whiteboard from then on. When I was fitted with my first prosthetic leg I can remember thinking I would never conquer being able to walk, but slowly it came. I was determined not to use any walking aids and I like to think that when people see me they don't realise I'm an amputee.
I was extremely lucky that I lived in the first NDIS roll-out area in Perth when it was starting up. With the assistance of my prosthetist, I applied to the NDIS support for my prosthesis, they agreed and provided me with a Genium microprocessor prosthetic leg. I will be forever grateful as it has enabled me to maintain my active lifestyle. I remain determined to get the best out of this leg and repay them for their faith in me.
Two years ago I decided that, despite my past problems with infections, I would undergo surgery for Osseointegration. I must say that it's the best thing that could have happened. I put my leg on at 7am and take it off at 11pm. It is just a "click fit" and then the turn of an allen key to tighten it, so it is also a great timesaver. I have been extremely lucky and have not suffered from any pain throughout this whole scenario.
Our half acre block and huge garden was something we could not handle so we downsized to a smaller house within walking distance of our village. We regularly walk to the shops, cafes, or to local events.
I belong to a swimming club and swim regularly. I have a "bucket list" which included competing in an open water swim of 3.75 kilometres around the Busselton Jetty. This was achieved two years ago in a time of one hour and 20 twenty minutes. I also see my swimming as an opportunity for social interaction and so don't focus on competing.
Another of my goals is to climb the Sydney Harbour Bridge. Because of COVID, this is on hold at the moment.
I volunteer with Limbs 4 Life and enjoy visiting, supporting and mentoring new amputees.
I also volunteer at Hollywood Hospital and visit patients throughout the wards. The word is gradually spreading that I volunteer with Limbs 4 Life and I have been asked to talk to several amputees in the last few months.
I have been a volunteer at Ronald McDonald House for eleven years. The home away from home they provide for regional families is amazing and they are always highly supportive and grateful for the help provided by their volunteers. Whist I was in hospital they were always enquiring about my health and took a close interest in my progress. Once I dropped in on my way back from a rehabilitation session to say "hello" and all of the staff came out to see me.
My volunteer work is something I love and intend to continue as long as I can.
I do not see myself as disabled and although I cannot do some of the things I used to do, I tend to put this down to the fact that I am seventy-two years old and it's time to forgive myself for things I cannot do.
Without trivialising the situation, I sometimes say to myself that "it's only a leg and I can get by without it". I also say to people when they hear my story that "life is good" and I choose to be extremely happy with my lot.
---