Elly's Limb Deficiency Story
The most incredible gift in life for me is to be able to inspire others to believe in themselves, no matter what they are born with, or without.
My name is Elly, I am 27 years old and I have had the opportunity to share a very special and personally inspiring story with children, young adults, parents, families and health care professionals interested in or associated with limb deficiencies.
I was born in 1993 with left Fibular Hemimelia; absence of the fibula bone in the lower leg. This was an uncommon congenital bone deficiency and, at the time, there was very little information available to provide my parents with the necessary treatment options. It was known that Fibular Hemimelia could cause severe knee instability due to deficiencies of the ligaments. My Dad's first response when I was born was "she's a healthy, beautiful little girl with three toes". My left leg was much shorter than my right, my ankle was deformed, my foot was in a lateral position and two sizes smaller than my right, and I was missing two toes. My parents were so thankful I was born healthy and well, however they knew they had some incredibly challenging decisions ahead, and feared for the unknown possibilities of my childhood and future.
Over the next few days, the doctors advised my parents that amputation from below the knee would be the most advisable option. My parents were told that I would never be able to walk, run, ride a bike, or have any normal function in my leg or foot. After seeking numerous opinions my parents decided go down the road of 'Limb Salvage' as they wanted any future amputation decision one day be my own if necessary.
My first operation was at the age of 4 to centralise my foot; a procedure that involved Achilles tendon lengthening and major bone reconstruction. My next operation was when I was 5 years old, and involved my first tibia bone lengthening procedure in Perth's Princess Margaret Hospital using the 'Orthofix' bone lengthening device. This invasive device remained insitu (in position) for eight months, during which my tibia bone was surgically broken and lengthened using 4 pin-sites which were inserted into the bone. It required a painful daily routine of turning screws 4 times a day to lengthen the tibia bone (a millimetre per day) by creating new bone growth while bridging the gap in the tibia (also known as osteogenesis). At the age of 6 my parents were delighted to be informed my left tibia had been lengthened to a total of 16.5 cm, therefore matching my right tibia bone in length and strength, after which I was then running around proud and unaided on the farm whilst keeping up with my siblings.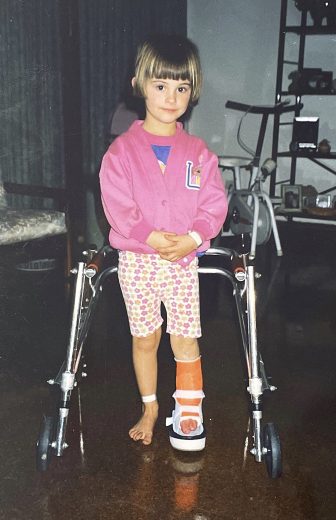 Due to the stunted growth of my left tibia, as I grew, the difference became more pronounced. Given that my left tibia was again 25% shorter than my right tibia when I was 12 years old I underwent my second bone lengthening procedure; a procedure which involved the 'Ilizarov apparatus'. The Ilizarov was a physically, mentally and visually challenging device which involved 18 pin-sites inserted into my tibia and foot. Upon successful completion of the Ilizarov bone lengthening process, multiple plaster casts and physiotherapy appointments, I entered into my teenage years.
On reflection I now know that my physical, emotional and mental accomplishments were all a direct result of my upbringing and family support. I believe growing up in such a loving and supportive environment meant I never felt like I was different or had a disability. I completed my Bachelor of Nursing degree at Edith Cowan University in 2017 and for four years I have been working as a Registered Nurse on an Acute Surgical Ward in Perth; a career which gives me great honour and pride. If I could have told my younger self that one day I would be a Registered Nurse and have everything needed within me to achieve my dreams, it would have given me so much more hope during those challenging times. I share this story with the desire to give children and families the courage to always have hope.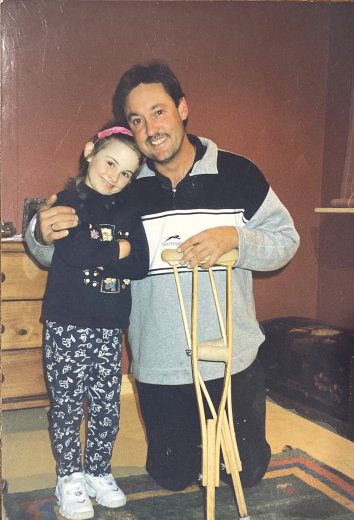 Today, both of my tibias are the same length, and 90% of the people I see throughout the day have no idea about my limb deformity. As a child I used to get asked, if I could wish for a normal leg and foot, would I? My answer is "absolutely not". I believe I am able to motivate others from all walks of life to follow their dreams, to choose kindness, to love themselves, and to always reach for the sky.
Furthermore, I would love to thank my parents for staying strong, for supporting each other throughout every step and for loving me unconditionally. I look forward to being more involved in supporting children and families that face limb deficiencies, and to encourage them to shine.
---