My journey to Kokoda and back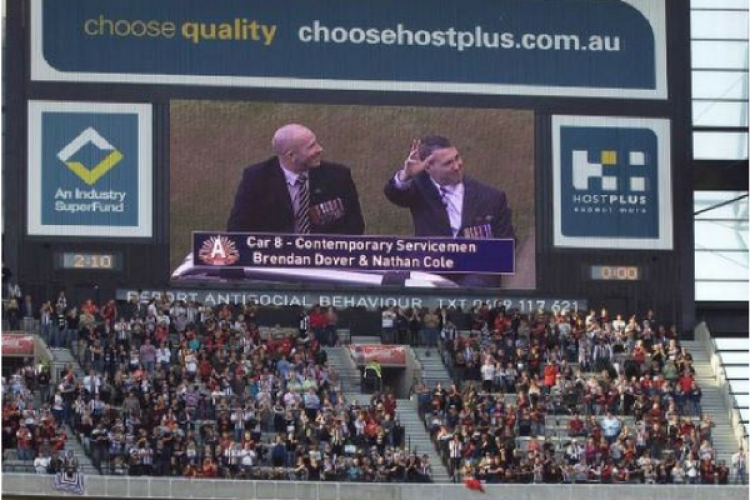 Two wonderful doctors named Nigel Mann and Martin Richardson attended to me and conducted approximately 20 surgeries to save my left hand. I spent 4 months in hospital and was discharged on April 24, 2011.
I met some amazing people in hospital who gave their all-in rehab; however in the long term the majority gave up on themselves and I was determined not to let my injuries affect me mentally, as it had done physically. Upon discharge I was then fortunate enough to take part in a lap of honour at the MCG on ANZAC day for my services.
I then returned to full time duties at my regiment in Darwin, 1 Brigade. Due to heat and shape of my stump, I was constantly in pain and eventually limited to part-time work. I wasn't happy with my lifestyle and sought alternative solutions to my situation.
Following consultation with doctors, I returned to Melbourne in November 2012 and removed more of my leg to be a below knee amputee. It was a great decision and something I am thankful for.
I now am able to participate in sports again and am slowly getting back into fitness. I am still serving with the Australian Defence Force and a few opportunities arose this year which I was selected to attend.
 The first being the United States Marine Corps trials. I had worked with the Marine Corps in 2009 so unfortunately, I wasn't visiting anywhere new; however I could never complain about being in California. The trials are for injured soldiers from the Marine Corps to compete and be selected to complete in the Warrior Games.
From the Warrior Games, soldiers are then chosen to complete in the Olympics representing the U.S.A. The trials were held in Camp Pendleton, San Diego in March 2014. The rehab facility is mind blowing. They have a fully operational 140 bed hospital; the biggest gym I've seen in my life, Olympic swimming pools, in-house rehab which involves around 60 staff and a full prosthetics facility which includes a research arm.
The prosthetic legs these guys punch out are world class. The trials were also attended by the Canadians, British, French, Germans, Columbians, Georgians and Kiwi's.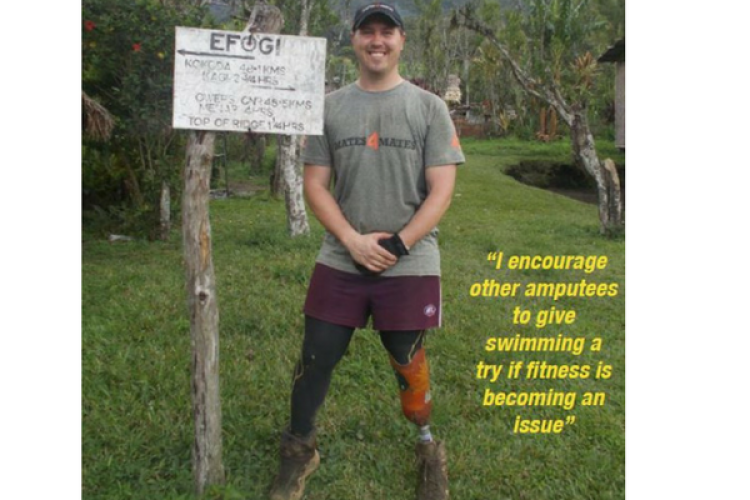 I completed in the 100m sprint and received a bronze medal. I also competed in seated volleyball with the allies' team, however we got destroyed; and I participated in swimming and won gold in 100m freestyle and silver in both the 50m freestyle and 50m backstroke.
I was never a strong swimmer.
I began swimming to keep my fitness up, when I wasn't able to walk or run. I encourage other amputees to give swimming a try if fitness is becoming an issue.
This year I was invited to attend the Invictus Games in Britain, however another opportunity had presented itself, that I couldn't resist. Mates4Mates is a charity organisation for injured soldiers.
They invited me to attempt to trek the Kokoda trail. The opportunity to follow in the footsteps of those who gave everything and some who gave all in defence of this country was  something I was thrilled and thankful for. I trained in the Lederberg State Forest near Blackwood and the 1,000 steps in the Dandenong's wearing a 20kg vest. I also ventured out to Lake Eildon and tackled a few of the tracks in that area. My dogs were loving life and provided good company. I'm thankful I trained as the trek is not something you can complete without a solid fitness base.
We completed the trek in September with 18 others including 1 widow and other members affected by wartime service. We started at Kokoda village and made our trek through the Owen Stanley ranges to Owens corner; 96km in total with only around 3km of the trek being on a flat surface. The remaining 93km is either up or down hill and consists of slippery clay, slippery tree roots, mud, rocks and river crossings.
It was great to hear stories of the hardship felt, the battles lost and won, battle tactics, stories of valour, courage and mateship.
It's a humbling experience to stand at gravesites and at Owens Corner; looking back at what they had endured. I have nothing but respect and gratefulness for all that served in Papua New Guinea.
I need to thank David and Monique from Promotion Prosthetics for the leg that got me through the trek and Paula Kingham for the artwork (on my socket) which everyone loves.
I am considering completing the Black Cat Track; however, my fitness needs to improve. I urge anyone who is an amputee and who is considering attempting the Trek to contact Limbs 4 Life.
They will pass on my contact details. It's not unachievable. Two of us completed the full 96km; however it is a tough track. Saying that, I extremely grateful for the experience and it's a great part of my life that I'm proud to talk about.
I'm currently still living in Melbourne and taking advantage of the Limbs 4 Life golf training at Sandhurst Club. I hope to see a few of you out there for the Christmas function or at one of the clinics.
For information about Mates4Mates or to learn how you can support the organisation go to www.mates4mates.org
---