Riding the rails with Bernie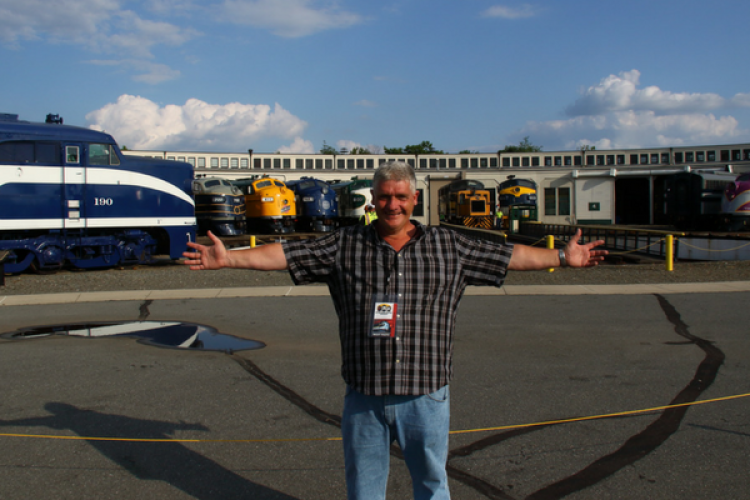 New South Wales resident, Bernie Baker, is not your ordinary Australian. He is a true-blue Aussie character, locomotive driver and self-professed 'trainiac'. He is also a below the knee amputee and the face of one of the highest-rating series on the Discovery Channel - Railroad Australia.
From a young age, Bernie was destined to ride the rails. "It's in my blood and has been since I was born," Bernie said.
"My dad was a train driver and my grand mum used to work on the buffet car on the trains"
"I remember we used to live in a railway house, in country Victoria, that backed up onto the railway line and as a child my dad would set me up on the fence to see the trains. I was a goner," he said.
Bernie's career as a train driver started three days after Christmas in 1982 with Southern Shorthaul Railroad (SSR). "With Dad being a loco driver meant I was hanging around at the Geelong depot to photograph the locomotives and so train crews got to know me - So, you're Jack Baker's lad? They would say which would be followed by an offer to ride on a loco," Bernie said.
For Bernie, driving trains is not just a job, it is his passion as well. A passion that saw him climbing trees and poles to photograph trains, all in the name of getting a better angle or something a little different.
But one day, in 1991, Bernie went too far. "Telephone poles were safe to climb of which I thought I was climbing on that dreadful day. It turns out I was on the wrong side of the tracks and I had climbed a high voltage electricity pole. I was shocked by 600 volts," he said.
"I was airlifted to the Alfred Hospital and placed in an induced coma, which I woke up from two-months later. Not realising where I was I sat up on the bed, went to stand up and fell straight over. A hard way to find out I had lost a leg! I also remember wanting to go back to sleep and wake up from this horrible dream of which I thought it really was. One day I panicked and started throwing stuff around, including a stainless-steel bed pan through the fourth-floor window of the hospital. I have no recollection of this but, hospital staff told me this is what had happened," he said.
As part of his limb loss journey, Bernie, as many amputees, said there wasn't much information and support available to assist him with his recovery. "My journey to recovery wasn't good.  The day I panicked, I got transferred to a psychiatric ward (Dax House) in Geelong and strapped to a bed."
"There was no counselling to help me understand what had happened. I feel I was treated like an idiot and it's an experience I will never forget. I was surrounded by patients that had mental issues including one who said - Hey you when are you going to grow a new leg?
"This would be the lowest point in my life. Then, I knew it was up to me to change things around. So, I got myself together and focussed on getting back to the world I knew. The rest is now history," Bernie said.
Once out of Dax House, Bernie moved in with his mum, dad and two sisters to continue his recovery. "They lived in Bendigo, so I moved there from Geelong until I could get back to work. Something I was determined to do. The boys had a whip around at work collecting some money to assist with bills. That was special," he said.
When Bernie got the final OK from his doctor, he eased back in to work as an Administration Officer and just months later he got the news he has been waiting for.
"A loco Inspector and trainer by the name of Bob Evans took me under his wing and looked after me. I owe Bob so much for this as he is truly a wonderful human being," Bernie said.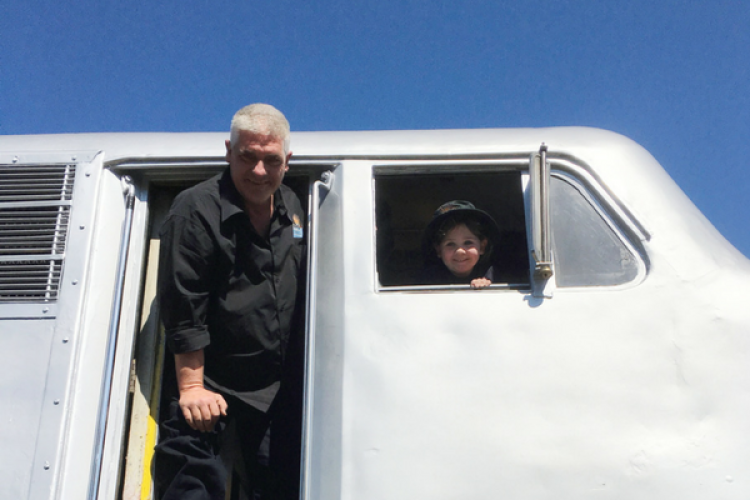 Bernie's passion for locomotives and his more than three decades long experience behind the controls, has made him one of the most in-demand train drivers in the country and has led him to his on-screen role in Railway Australia.
The series uncovers what it takes to transport thousands of passengers and vital natural resources across Australia. The show goes behind the scenes to meet the train drivers, locomotive servicing crews and track maintenance teams who work around the clock to keep the rail network running on time.
"After the series went to air, the office had calls from ladies wanting to get my phone number.  I got to be one of the ugliest train drivers around," Bernie laughed.
When Bernie is not at work he is spending time with his wife Trish and their three children; seven-year-old twins, Megan and Stuart, and five-year-old Matilda.
"I love being a Dad. I am fortunate our kids are healthy and happy, but they're growing up too fast and there is no way to slow that down.
"All three kids are very creative and lucky for me Stuart loves his trains. He and I are planning a model railway layout together which to me father and son stuff is so very important." he said.
Bernie is never short of ideas when it comes to digging in deep and helping people in the community. In 2016, he spent thousands of hours organising a special event called The Streamliners, which celebrated 65 years of Streamlined Locomotives in Australia and raised money for charity.
 "We had twenty classic locomotives from all over the country coming together for one big party and the bash came complete with fireworks. The event appeared over two episodes on Discovery's Railroad Australia and we raised a total of $6,500 for a local children charity," he said.
Bernie is now working with a network of film makers and contacts to produce a TV show that would involve the painting of locomotives trains with the names and slogans of selected charities. These mobile billboards will travel to every corner of Australia, visiting remote communities in an attempt to raise money and awareness for charities that support children.
"I'm passionate about trains and I'm passionate about children, especially kids who need a bit of a hand in life. Children are helpless, and they count on adults to get them started in life.
"I desperately want to do everything in my powers to raise awareness for some of these community organisations who dedicate their time to assist children in need. I anticipate, the film will be an award winner and will be packed-full of emotion, interviews with those who have benefited from these organisations. Also, viewers can expect to hear first-hand from key people who are involved in helping our little ones," Bernie said.
Next year, watch out for Bernie's charity TV show as well as for the Third Season of Railroad Australia, which could see Bernie and the Australian Locomotive Team heading overseas as part of an exchange train drivers program with the USA. Bernie is expected to take on the exciting challenge of driving locos in a US winter! We wish Bernie the very best in his future endeavors.  
If you would like to see Bernie in action as part of the Discovery Channel's Series Railroad Australia, head to www.discoverychannel.com.au
---