Getting the gloves on! Ben's passion
An amputee from the age of 14 months, boxing is in Ben's blood! He loves it so much that he's made it his business to get people with disabilities to participate in the sport. The CEO of Ampubox/Chairbox shared his passion with us.
I started Ampubox/Chairbox two years ago in January 2020. Boxing is a passion of mine, and I wanted to improve the participation rates of people with disabilities in the sport of boxing. With this in mind, I developed an exclusive service that tailored individualised boxing programs for people of all abilities.
The sport of boxing offers many benefits, both physically and mentally. It encourages people to push themselves to be better than they were yesterday. The clients I work with enjoy overcoming mental barriers that may have stopped them from learning new skills - skills that ultimately improve the physical functioning of their body. My service offers all people a safe outlet to learn the art of boxing no matter what their physical capabilities are.
I have been an amputee most of my life. My right leg was amputated below my knee when I was 14 months old as I did not have a tibia bone or heel/ankle bone (calcaneus). I am a twin and thankfully my parents never treated me differently from my brother. I learnt from a young age that when I put my mind to something, and with the encouragement of family and friends, I was capable of more than I truly believed. I was always physically active and loved individual and team sports. I competed in little athletics, basketball, and football from the age of five.
My father and uncle started a boxing gym in 1968 and I learned the sport of boxing as soon as I could walk. The Brizzi Brothers boxing gym has trained World Australian and Victorian title holders, both male and female. The gym is still family run and owned, after 54 years. The gym has always encouraged participation from youths and adults and has received countless community service awards.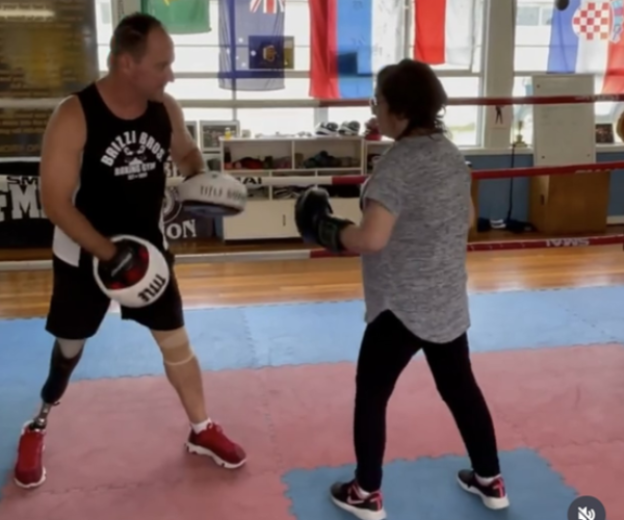 I have been training amputees, wheelchair users, children with autism, ADHD, multiple sclerosis, and other physical and mental disabilities. My sessions always start with the basic principles of boxing. Balance, core stability and basic hand-eye combinations. Each session builds on from the session before. The sessions are fluid and skills are developed as fast or slow as each individual requires. There is no set method to learning boxing. Some clients enjoy developing specific skills, other clients enjoy the physical exertion and some just enjoy the chat and laugh. Every single person has left their sessions better than when I first met them.
When I start working with clients, I start with basics that anyone can do. I focus on slow basic movements - punches or combinations, always dependant on each person's ability. I teach core stability, upper or lower body strength, basic steps, balance, and focus. Fitness and strength are a natural progression that people gain from boxing. I love building connections and friendships with people I train, and giving them the enjoyment factor, whilst sharing my passion.
NDIS has given more people the opportunity to try new things, without major costs. For those that access NDIS, I can create a service agreement. Initially, when I first make contact with new clients, I offer the chance to come down to see what I do, to chat over the phone or to jump on my social media pages (Ampubox & Chairbox). Each new client always begins with a free trial. I run my sessions from the boxing gym, and for those who are unable to travel or who are interstate, I organise online zoom sessions.
Limbs 4 Life has given me another avenue to connect with amputees. It provides me with the opportunity to talk to others, to share experiences and to encourage new amputees with different ways to move forward. I am also a member of the Northern Amputee Empowerment group here in Melbourne.
---