Calling all children and young people aged 25 and under
Research and evaluation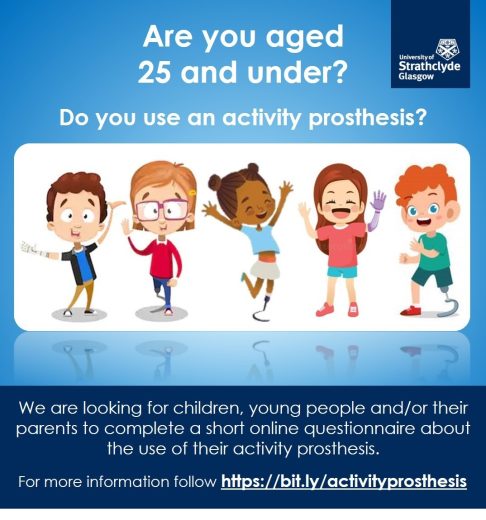 Do you/your child have an activity prosthesis such as a running blade or a cycling arm? Are you/your child aged 25 or under? If so, we would like your help!
My name is Megan Rayner, I am a 4th year Prosthetics and Orthotics student at the University of Strathclyde. I am completing a study about how specialised activity and sports prostheses have affected activity levels of children and young people. This project will be supervised by Sarah Day, a Prosthetist-Orthotist and Teaching Fellow at The University of Strathclyde.
Having been involved in sports and coaching for many years, I am keen to explore how activity prostheses affect children and young people with limb differences and to work out whether there is anything more that could be done to increase their activity.
The name of the study is ""The provision of Sports and Activity Prostheses: The Impact on a Child/Young Person's Activity Levels."
To take part you have to be aged 25 and under (or have a child that age) AND have used an activity or sports prosthesis.
If you are interested, please click the link below which will take you to a short online questionnaire (It shouldn't take longer than 15 minutes).
Parents and children/young people can fill it out individually or together
You will be asked questions about your activity levels when using a standard every-day prosthesis and when using an activity prosthesis. There will be the opportunity to add comments.
You don't have to take part and you can stop at any time.
If you are interested, please click here which will take you to an information sheet and the questionnaire.
If you have any questions, please do not hesitate to contact me via megan.rayner.2017@uni.strath.ac.uk.
---