Yoga for amputees
Recreation and leisure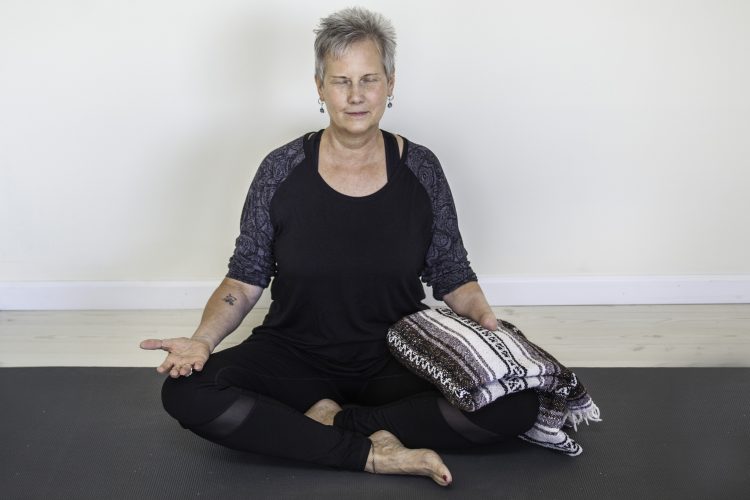 Yoga is a must for amputees wanting to reclaim their health and wellness after limb loss!
By Phoebe Malone
I have been a prosthetist and orthotist for 14 years working with a wide range of amputees in both the public and private sector, nationally and internationally. I believe most facilities provide patients with fabulous care to assist with their mobility (physical rehabilitation) following an amputation, however there isn't enough focus on their emotional and mental wellbeing (mental rehabilitation).
It is because of this that in 2018 I completed studies in "Amputee Yoga", in addition to my regular yoga teaching qualifications. My amputee yoga trainer was Marsha Therese Danzig, a below knee amputee. Marsha is my inspiration to share this practice with all amputees and to assist you in finding wholeness after limb loss.
Marsha taught me that ""Wholeness is not simply having four limbs. Wholeness is knowing you are complete within yourself just as you are"
WHAT IS YOGA
Yoga is composed of movements which build strength, stamina and flexibility (these are called asanas)
And periods of rest, meditation and mindfulness (this is called pranayama).
There are many definitions of "yoga", the word itself however means "union" or "connection". Yoga is a way of connecting the body, mind and the breath. It provides us with the skills and space to build on our connection to life, to grow our awareness and acceptance of who we are, what we are and what ties us all together! In essence yoga is about making us feel whole and for amputees who have dealt with limb loss I believe this is crucial.
"The success of yoga does not lie in the ability to perform postures, but in how it positively changes the way we live our lives and our relationships". T.K.V Desikachar
BENEFITS OF YOGA FOR AN AMPUTEE
Yoga is a holistic medicine that works on increasing patient wellness without invasive procedures or excessive prescriptive medications. I believe it is a practice which allows the body and the mind to heal and can help make life better for amputees, especially as they grapple with prosthetics, body image, pain, freedom of movement and other residual effects of limb loss.
Improves flexibility + joint mobility
Improves strength + gait
Improves coordination + balance
Aids to prevent injury
Recharges the immune system
Supports the respiratory + circulatory systems
Develops good posture
Tones the body + muscles
Reduces phantom pain
Assists with coping with limb loss, grief and PTSD
Improves concentration and energy levels
Reduces stress and anxiety
Encourages a positive relationship with the body
Releases anxiety and feelings of negativity
Brings clarity and calm through relaxation and meditation techniques
Enhances stillness of mind
Creates a deeper sense of self awareness
Encourages creativity, self expression and self confidence
Encourages healthy sleep patterns.
Pain management: For an amputee, having mechanisms to overcome pain is essential. Research is showing that yoga has increasingly positive outcomes to assist patients dealing with pain. Many amputees experience pain related not only the to the residual limb, but referred pain due to uncomfortable prosthetic fit, phantom pain, or pain in an overused part of the body. Yoga has shown that with the right exercises, breath work and movements, pain can be reduced.
HOW TO PRACTICE YOGA AS AN AMPUTEE
The most important thing for an amputee when practicing yoga is that they are safe and feel secure.
Ensure you are receiving guidance from a qualified professional (a yoga teacher and ideally a teacher who has undertaken Amputee Yoga Training)
Ensure you have discussed this with your physical therapist, prosthetist and/or doctor prior to practicing
Ensure you listen to your body throughout the class and are honest with yourself about your capabilities
Ensure you let your yoga teacher know if you have any injuries or areas of concern and your yoga teacher offers adaptive options for you throughout the class.
WHERE CAN I PRACTISE
At your local yoga studio. Call the studio or pop in and discuss the option of you joining a class. They will help you work out which class/teacher will be most suitable for you/ assist you in finding another studio which can accommodate you if they are unable
At home. You can set up your own home studio and there are some fabulous online Yoga for Amputees programs you can join. Visit www.yogaforamputees.com for more information
Join me at www.phoebemalone.yoga where I provide assessment-based programs that are clinically focussed to meet your needs. These programs utilise my 14 years of clinical prosthetic experience to build holistic, full-body, goal-based programs. These can be delivered face to face or online and can be one on one or in small groups. There may also be an option for these programs to be included in your NDIS package.
Whether you have zero, one, two, three or four limbs, whether you are flexible or stiff, young or not so young, I believe yoga is for you!
If you are an amputee or a clinician and would like to chat with me about anything in this article please contact me through my website www.phoebemalone.yoga or call 0408026183

---