Shane Luke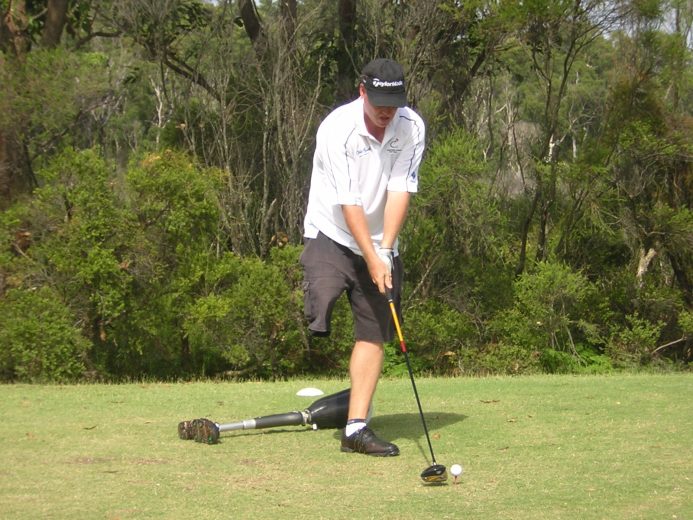 Living, Playing and Working with Prosthetics.
In 1987 at the age of 15 years, Shane developed Osteogenic Sarcoma (bone cancer) which resulted in an above-knee amputation of his right leg. Shane endured a total twelve months of chemotherapy as an in-patient at the Prince of Wales Children's Hospital in Sydney. 

"It was a really tough time for my parents, who supported me through the loss of my leg and the debilitating effects of very strong doses of chemotherapy.
I look back now, as a parent, and am even more appreciative at how they coped and maintained such a positive attitude throughout my treatment and rehabilitation", said Shane. 

Shane has been married to his beautiful wife Helen for 12 years and is the proud father of Jason and step-daughter Scarlett, both aged 19 years. Shane said that "I don't have any siblings, so can't share any funny anecdotes about sibling rivalry. But what I can say is that my parents have been incredible supports throughout my life. When I became an amputee, they encouraged me to 'get on with life' again. Which is exactly what I did. I've just got on with life". 

For Shane, life encompasses family, career and golf. Shane has had two distinctly different careers during his life. "I entered into the printing industry as a graphic designer. I worked in that sector for 17 years but I felt I needed a change. I was really fortunate to be offered a position at Ottobock and I've been working there for ten years now," stated Shane. As an Orthobionic Service Technician at Ottobock Shane manages the local service and repairs and coordinates the high-tech componentry with Ottobbock's German Headquarters. Shane also assists Australian Prosthetists through the provision of information, support with Ottobock academy and training. As an amputee, and someone who works in the industry, Shane has seen enormous advances in prosthetic technology over the years. 

"The first leg I received had a pelvic band, I then moved to one with a suction socket and now use one with a silicon liner", recalled Shane.
In thinking about his first prosthetic leg, Shane felt it "was uncomfortable and the government funded componentry limited my mobility enormously - I was 15, I loved sport and the leg couldn't keep up with what I wanted to do. Whereas today's legs enable people to be more active and, if fitted correctly, shouldn't cause too much pain or discomfort". Working within the prosthetic industry means that Shane is seeing the positive results of significant research and development on almost a daily basis.
 
Shane enthused that "Each new product is better than the last, which means better outcomes for us as amputee users. I'm very excited that we are moving from mechanical to orthobionic prosthetics, and the emerging use of nerve stimulus for upper limb amputees is just incredible". 

As someone who lost his leg as a young person, Shane is particularly pleased that children with congenital or acquired limb differences are entering into a period of technological change within the industry. Shane hopes the government funding can keep up with the never-ending advances in prosthetics. 

"It is so important that child amputees are given access to prosthetic limbs that will enable them to participate fully in our society - something that wasn't as easy for me when I was a teenager because of the cumbersome leg I was fitted with", asserted Shane. 

Shane is a world-class golfer who has represented Australia in many disability and amputee-specific golf tournaments. For Shane, golf is more than just a sport. Golf is his passion, his meditation and his exercise. Shane actually started playing golf, with his father, prior to the amputation of his leg. "Golf became my rehabilitation after I lost my leg and whilst still on chemotherapy. I was at home, feeling a bit stronger than in my earlier stages of my chemotherapy and I was pretty bored. 

So, Dad suggested that we go to the golf range and hit some balls. Well, I nearly laughed at him when he said that as I was still only using crutches and couldn't imagine that I would ever be able to hit a ball again, let alone with only one leg," said Shane. Visiting the golf range was an eye opener for Shane who successfully did hit a ball, in fact many balls, that day and never fell over once.
 
"When my chemotherapy finally finished I had my Dad take me to the local golf course where he caddied for me and I walked a few holes on   crutches while dropping them to hit the golf ball standing on one leg. Gradually over time I gained enough strength to walk and complete 18 holes of golf," explained Shane. 
As a teenager adjusting to life as an amputee, golf gave Shane something to look forward to and he enjoyed working towards improving his golf handicap score. "I really can't thank Dad enough for his support and encouraging me to go to the golf driving range for the first time," said Shane. 

Shane was part of the Australian team that won the 'World Disabled Cup' in South Africa in 2014 and was part of the Australian team that placed third in the 'World Disabled Championship' in Japan last year. 

2014 was a very successful year for Shane as he placed an individual second place at the 'World Disabled Championship' in Japan. Shane also won the 'Australian Amputee Open' earlier this year for his 6th national title. Shane is a member of Bankstown Golf Club, a group one golf course in Sydney. He is very competitive with his mates, holding his own against able bodied golfers and playing off a scratch handicap being one of the lowest in the club.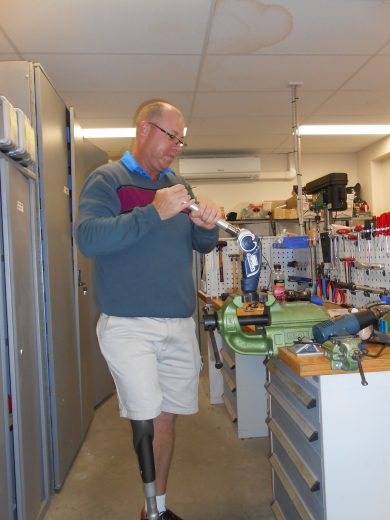 Interestingly, Shane now uses a state of the art prosthetic leg but yet he still finds it easier to remove his prosthesis when hitting a golf ball. "I take my leg off to play golf as I find my prosthesis impedes on freedom to rotate my hips at high speeds during the shot, allowing me to hit the ball a long way. And yet I have the best of both worlds being able to use my prosthesis for extra balance to putt and chip for the finesse shots on and around the greens. I'm able to walk the golf course with my leg if required but it does become more of a physical challenge", explained Shane. 

The establishment of a 'Disabled Professional Golf Association (PGA) Tour' is Shane's personal goal and something he would like to be involved in. "I would love to see our next generation of children with limb differences aspire to being part of an internationally recognised profession and sport; a sport that is not only fun but terrific from friendship, exercise physiology, potential career pathway and peer support perspectives also," enthused Shane.
Shane is a firm believer in peer support; having benefited from it when he was recovering from his own amputation. "I was 15, stuck in hospital and I didn't want to talk to the hospital counsellor. In fact, I didn't really talk to many people after my surgery as I just wasn't ready.

That was until a man walked into my room wearing his prosthetic leg. It was the first time I'd met another amputee and I felt more positive about my future after I spoke to him about his life and he helped me to see that I was going to be OK too," recalled Shane. 

"In my job, and because I am in the amputee community through golf, I already offer informal support but I now want to do it more formally so I'm going to be trained as an official Limbs 4 Life Peer Support Volunteer shortly," said Shane.

The acceptance of disability and greater awareness of amputees is a positive change that Shane has seen over the past few decades.
"Back when I was younger, people used to hide their disability. Most people with prosthetic legs would hide it under long pants. There was a sense of embarrassment I guess. But I was never embarrassed by the fact I only had one leg. I would show my prosthesis, or I would be on crutches with only one leg and I wouldn't cover the fact I wore a prosthetic leg cosmetically," asserted Shane. Shane feels that society's attitude has shifted significantly since his childhood and that it's good we can talk about disability now, no matter the type. 

As both an amputee and a member of prosthetic industry Shane believes that much can still be done to ensure that amputees live fulfilling and productive lives. Shane stressed that "we need the government to invest more funding in prosthetics so that amputees can be fitted with better componentry that gives them the best outcome for their mobility needs and so they can be socially included; with the end result being more amputees in the workforce and contributing to the community".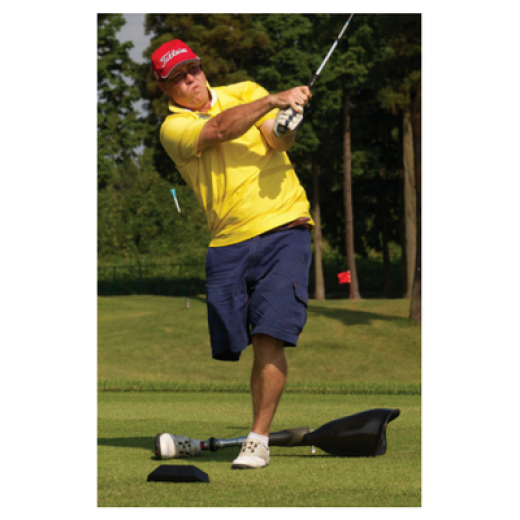 "We also need to ensure that all Prosthetists have access to continuing education so that they can remain abreast of new techniques and advancing technology. It's critical that Prosthetists are given the time and resources to continue to learn in the field," emphasised Shane. 

"I also feel that, with the support of Limbs 4 Life and the amputee community in Australia, we can make our society even more 'amputee aware'", said Shane. As an 'experienced amputee' Shane wants other amputees to "never give up and keep trying". Shane believes that amputees must use their voice to ensure they get the right prosthesis, the right treatment and the right support for them and "to not stop asking for what you need". 

Shane would like to thank his wife Helen and his employer Ottobock for all the time and support with his golf which has allowed him to achieve his goals and to become the best that he can be. "Their support is greatly appreciated," said Shane.
---