Geoff's Big Walk for Limbs 4 Life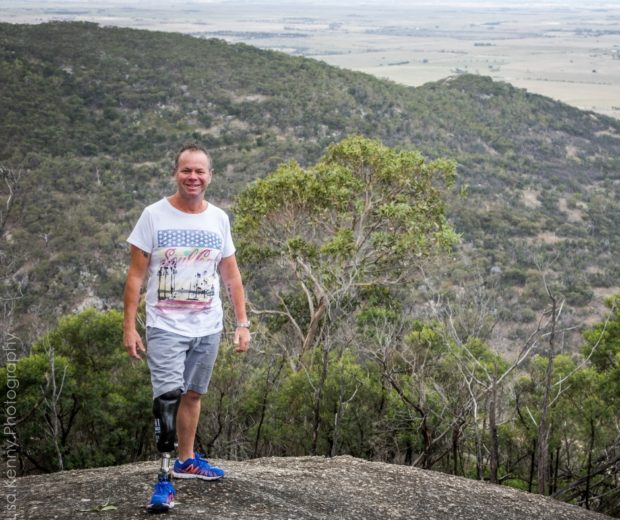 Meet Geoff, a Limbs 4 Life Peer Support Volunteer, and walking enthusiast. This year Geoff will undertake the journey of a lifetime, visiting a variety of towns to raise funds and awareness of amputation and Limbs 4 Life. Geoff wants you to get on board and support his 'Big Walk.' We are thrilled that Geoff has chosen to share his story about living with limb loss and overcoming adversity.
In April 1985 at the age of 23, I was involved in a motorbike accident that left me with horrific leg injuries. I was told that I'd never be able to walk unaided again. After 15 months of rehabilitation, determination and hard work, not only was I walking unaided but I took part in my first fun run with a specially designed shoe for that leg.
"I continued life with my fragile injured leg for another 24 years until 2010 when I fell and broke my already damaged leg. After six months of having my leg in a cast it was evident that it was not healing so I made the difficult decision to have my right leg amputated below the knee. It was a life changing decision and definitely not an easy one, but I couldn't live with the pain any longer. I was fitted for a prosthetic leg only a couple weeks after my surgery and after only a month of learning to walk with my prosthetic I started some gentle running on a treadmill. Six months after the amputation I entered my first 5km fun run and since then I have walked the Kokoda Trail twice and climbed Mount Kilimanjaro," Geoff shared.
Stay tuned about where Geoff will be during National Amputee Awareness Week. Come and meet up with Geoff and walk a mile in his shoes!
If you would like to follow Geoff's Big Walk or donate please click here.
If you would like to take a walk with Geoff he will be at the following locations:
4 October - Wodonga Sports Ground - Pat Parker Park
5 October - Wangaratta Showgrounds
6 October - Benalla Showgrounds
7 October - Bendigo Lake Weeroona
8 October - Lake Wendouree Foreshore
9 October - Colac Botanic Gardens
10 October - Geelong John Landy Field Track
11 October - Melbourne - Doncaster Reserve Leed Street Doncaster
---